Our Litchfield Park dental team is dedicated to making sure all of our patients feel right at home in our office. Our dental staff members are highly skilled, well-trained and provide energetic, fun-loving service to each patient.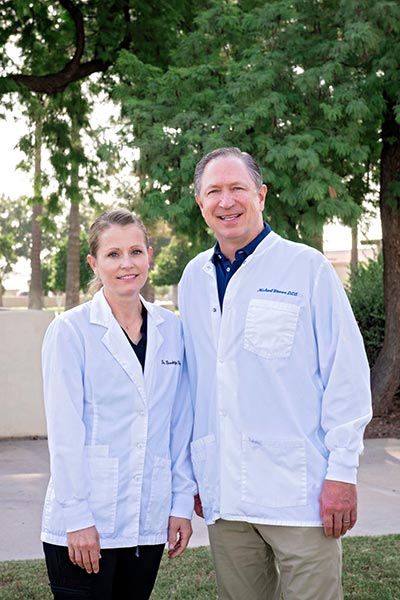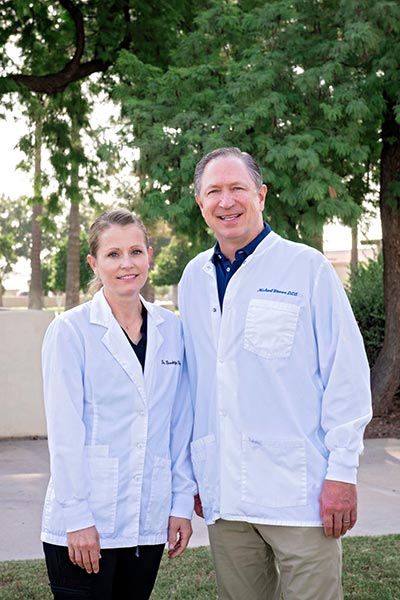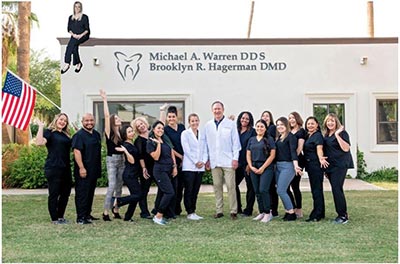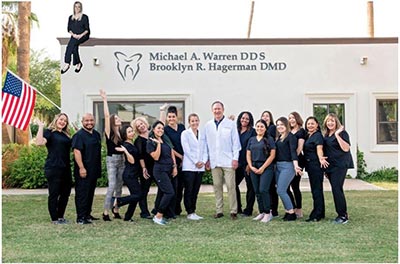 Dr. Hagerman and Dr. Warren
Meet Our Litchfield Park, AZ Dental Team - 3
Meet Our Litchfield Park, AZ Dental Team - 4
Meet Our Litchfield Park, AZ Dental Team - 5
Meet Our Litchfield Park, AZ Dental Team - 1
Meet Our Litchfield Park, AZ Dental Team - 2
Contact-Us-Warren-&-Hagerman-Family-Dentistry
Meet_Our_Team_WH_Family_Dentistry1
Meet_Our_Team_WH_Family_Dentistry2
Meet_Our_Team_WH_Family_Dentistry3
Meet_Our_Team_WH_Family_Dentistry4
Meet_Our_Team_WH_Family_Dentistry5
Meet_Our_Team_WH_Family_Dentistry6
Meet_Our_Team_WH_Family_Dentistry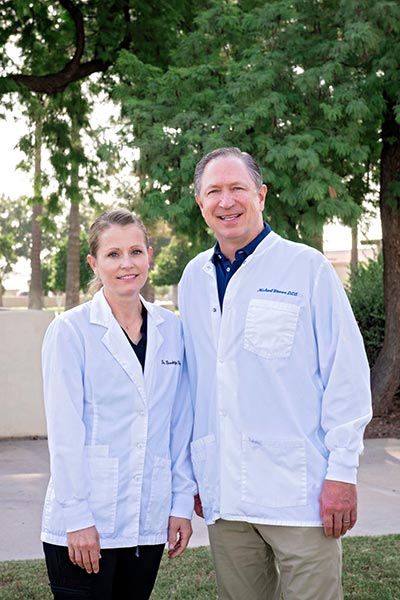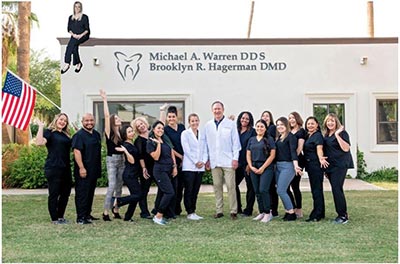 Each member of our dental treatment team and office staff are certified in CPR, OSHA, sterilization techniques, and anesthesia.
Our dental team members are carefully chosen for their capabilities and experience, and their commitment to quality care.
Front Office Staff
Dana - Treatment Coordinator
Dana has been in the dental field for over 21 years. Dana was a dental assistant for many years before moving to the front office team. Dana works patiently to make sure each person understands their individual treatment plan, the benefits of the diagnosed treatment, and the individuals' insurance benefits. Dana also assists with coordinating patients' financial arrangements.
Dana is married with three children. When she is not at the office you will most likely find her at one of her children's sporting events. Dana and her husband enjoy date nights at the gym or family camping trips.
Emily - Hygiene Coordinator
Emily's bright smile welcomes our patients when they walk in the front door. She started in the dental field over 8 years ago working alongside her mom in the back office. Emily loves working with a team that prioritizes patient's needs and interests. Outside of the office, Emily is a part-time student at Estrella Community College. She likes to see live music concerts, complete home projects, camping, and spending time with her family. Emily and her significant other have 2 tabbies, Julius and Dorito and Husky, Kairi.
Holly - Treatment Coordinator
Holly started her dental career over 23 years ago. She was an assistant for 20 years (10 of those being with Dr. Warren) before transitioning to the front office team. Holly works to facilitate the patients experience in being seamless and ensures the patients leave the office well informed and prepared for their next appointment. Holly has 2 children now out of college and a granddaughter who she spends all her free time with. She enjoys doing crafts, camping and spending time with family and friends.
Ally - Billing Coordinator
Ally is an Arizona native, she originally worked as a licensed esthetician and then found an unexpected passion in the dental field 10 years ago. With her experience, she is well versed in all aspects of the front desk but specializes in dental insurance. She loves the relationships she builds with her patients!
Ally is married with three children. She most enjoys any time spent with her family.
Beth - Office Manager
Beth brings over 12 years of dental experience to our office. After graduating Dental Assisting school and working as an assistant for 2 years, she transitioned to the front office team where she found herself more at home. The most rewarding part of her job is to ensure that all of our patients receive the best possible experience. She is passionate about making sure the quality of service
and attention from our front office is 5 stars.
Beth was born and raised in Colorado but has been "living her vacation" here in Arizona for the last 4 years. Beth and her husband moved here with their two dogs to escape the snowy winters and be closer to family. Her hobbies include traveling and gardening.
Hygiene and Clinical Team
Nicole - Hygiene Assistant
Nicole is an Arizona native and has over 11 years of dental assisting experience. We are excited to have her as part of our dental team. Nicole has a bright smile, a twinkle in her eye, and keeps us all on our toes. She brings a lot of laughter and smiles into the office. When she is not helping our patients, she might be hiding behind a corner, waiting to scare the next unsuspecting team member walking by. Nicole enjoys spending her free time with her husband Tony and their daughter Charli. They enjoy sports, the outdoors, and doing anything together as a family.
Wendy - Registered Dental Hygienist
Wendy has been in the dental field for over 31 years and has been a key part of Warren & Hagerman Family Dentistry's success for the past 16+ years. She graduated from dental assisting school in 1989 and graduated from dental hygiene school in 1997, both from Foothill College in Los Altos Hills, California. She is passionate about patient education, particularly in the area of periodontal disease prevention.
Wendy and her husband, Francisco, have four children: Christina, Derek, Nathan, and Kailey, as well as four grandchildren. In her free time, she reads, swims, and hikes. She also loves all things genealogy!
Yen - Hygienist
Yen is originally from Vietnam and came to the United States in 1995 to start a new life. She and her family recently relocated to Arizona from the Northeast. Yen graduated among the top 10 percent of her hygiene class at Erie Community College.
Prior to dentistry, she attended the University of Massachusetts where she earned her Bachelor of Science degree. She has over 8 years of experience working in family dental offices as well as specialty offices. Yen is passionate about her career and strives to be excellent in what she does and live a positive healthy life to its fullest with her family and friends.
Victoria - Dental Hygienist
Victoria is an Arizona native. She graduated from Phoenix College Dental Hygiene Program in 2005 and has been practicing for 16 years. Victoria takes a personal interest in each of her patients and knows that the quality of the care she provides is critical to their overall health. She loves her career as a Dental Hygienist and strives to provide a positive patient experience.
In her free time, she enjoys spending time with family, hiking, reading, and traveling.
Amber - Dental Hygienist
Amber has over 24 years of experience in the dental field. She graduated from Apollo College as a Dental Assistant in 1998. Amber decided to further her education in the dental field and attended Phoenix College where she graduated with her Associates of Applied Science as a Registered Dental Hygienist in 2017. Amber enjoys sharing her knowledge of dentistry and educating patients on their oral health.
Amber has a fiancé and two teenagers. When she is not at work she enjoys going to the lake, camping, and attending her daughter's softball games.
Lorena - Dental Assistant
Lorena has over 8 years of experience as a dental assistant. For the past 2 years has formed close bonds with her team members and developed trusting relationships with her patients.
Lorena's hobbies include spending time with family and traveling to new places.
Kristi - Dental Assistant
Bio coming soon!.
Miguel - Dental Assistant
Miguel was born in Orange County, CA. He moved to Phoenix, AZ when he was 17 and completed high school at Trevor Brown. His passion for dentistry came from his older brother, who is also a dental assistant. Miguel attended Apollo College (now Carrington) and completed his dental assisting certification course in 2009. Miguel joins our team with a vast knowledge of general dentistry, orthodontics, periodontics, and surgical dentistry. At home, Miguel is a loving dad! He enjoys spending every bit of free time with his 2 young sons; they really love camping with dad!
Nikki - Dental Assistant
Nikki is originally from Colorado and has been working in the dental field for 23+ years. She moved to Arizona from Texas and enjoys the Arizona winters. As a dental assistant, she loves treating her wonderful, trusting patients. In her spare time, she and her family love to camp, swim, read, go on Netflix binges, and barbecue. Nikki loves helping her patients feel comfortable and enjoys helping them achieve their healthy mouth and smile goals.
Sophia - Dental Assistant
Sophia was born and raised right here in Arizona. She has been a dental assistant for more than two decades. She assists the doctors with all dental procedures, take x-rays and helps maintain a tidy and organized office.
Sophie is a people person and has an extremely compassionate heart. Her favorite part of the job is comforting patients and help them feel more at ease in the dental chair. In her free time, Sophia takes every chance she can get to expose her kids to nature and get them away from their screens! She also loves reading, walking, and watching historical documentaries.